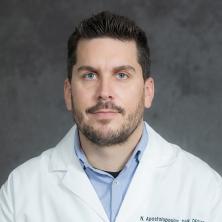 D.V.M., Dipl. ECVD Neoklis Apostolopoulos
---
Work address
School of Veterinary Medicine, University of Wisconsin, Veterinary Medicine Bldg, 2015 Linden Dr, Madison, WI 53706, USA.
---
Biography
Born in Greece in 1987.
He studied Veterinary Medicine in Greece (University of Thessaly, Faculty of Veterinary Medicine).
In 2012 he moved to Germany where he completed a rotational Internship. Afterwards he started his Doctorate on canine skin microbiome (Small Animal Clinic, Justus-Liebig University Giessen). In 2018 he started his residency and in 2021 successfully passed the ECVD Diploma-examination.
He speaks and writes fluently Greek, German and English.